Student's Pass Application
International Students must obtain a valid Student's Pass (STP) issued by the Singapore Immigration & Checkpoints Authority (ICA), before they can commence their course.
Student's Pass Application
Students are required to complete all items in ICA Forms 16 & V36 and submit to DIMENSIONS for onward submission to ICA through the student's pass on-line application system (SOLAR+ System)
A Processing Fee of $30 is required for each application submitted to ICA. The processing fee is non-refundable regardless of the outcome of the STP application or if the STP application is withdrawn after submission
ICA will take up to 14 days to process each STP application.
In-Principal Approval (IPA) by ICA
Once ICA approves your STP application, you will receive an In-Principle Approval (IPA) letter through DIMENSIONS.
For international students who require a VISA to enter Singapore, the IPA letter will incorporate a single-entry VISA for the student.
The IPA letter and the VISA will only be released to the international students, upon receipt of the signed Standard PEI-Student Contract and payment of course fees.
Collection of Student's Pass at ICA
Upon your arrival in Singapore, DIMENSIONS will make arrangements to collect your Student's Pass from ICA. Note that the Student's Pass will only be issued no earlier than one month before the course commencement date.
DIMENSIONS will make arrangements for students to do a medical checkup and obtain the medical report
International Students are required to furnish the following documents for collection of student's pass:
Your valid Passport
A photocopy of your Passport particulars page
Your Disembarkation/Embarkation card (white card).
1 recent color passport-size photograph (taken on white background)
The printout from the SOLAR+ System (duly signed by the students)
A copy of the IPA letter and
The medical report
A $60 STP issuance fee and a further $30 for multiple-entry visa (if applicable) is payable when collecting your student's pass.
Student's Pass Application Procedure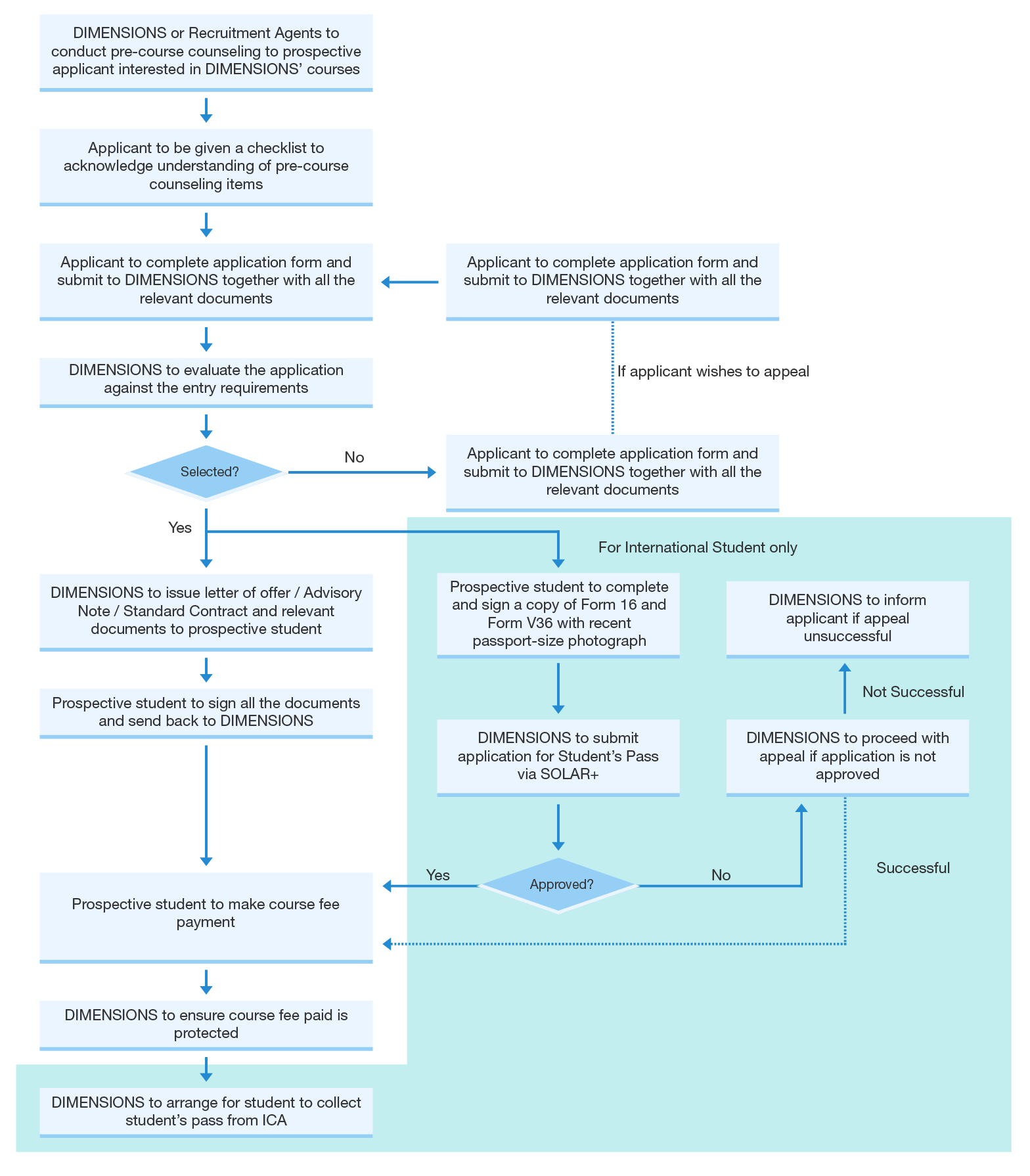 Note: The approval of student's pass application is dependent on ICA Singapore. DIMENSIONS DOES NOT GUARANTEE any success rate of approval.
For more information, please visit ICA website at www.ica.gov.sg.